"Amit megtehetsz sperma,ne halaszd holnapra"(Aranyköpés)
Mielőtt megvádolnak bennünket,hogy ilyen bulváros címmel kezdjük a posztot,álljon itt a címadó Nők Lapja Café cikke.
Ahhoz,hogy véleményt formáljunk a felvetésről,első lépésként nézzük meg mit tartalmaz a hatásosnak vélt anyag összetételéről a Wikipédia:
A férfiak ondójában (sperma) a hímivarsejtek (spermium) száma milliliterenként 20-60 millió között van. Ez képezi a sperma sejtes állományát, ami a teljes sperma tömegének mindössze 5%-a. Ezeknek átlagosan 80%-a életképes. A sperma maradék 95%-a a spermaplazma, amely különböző járulékos nemi mirigyek váladékának elegye. Pontos összetételét tekintve 3-5%-a keletkezik csupán a herében és a mellékherében, 45-80%-a az ondóhólyagban, 10-30%-a a prosztatában és 2-5%-a a Cowper-féle mirigyekben.
C-vitamint, kalciumot, klórt, koleszterint, citromsavat, kreatint, fruktózt, tejsavat, magnéziumot, nitrogént, foszfort, káliumot,nátriumot, B12-vitamint és cinket is tartalmaz.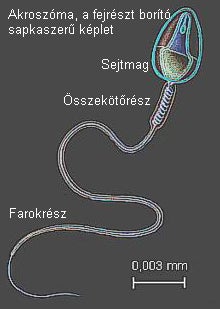 Mit ír erről a témáról a Sex Blogger,aki az összetételt és a gyógyhatást illetően még tovább megy.Nemcsak a depresszió leküzdésében,hanem a cukorbetegség kezelésére,enyhe torokfertőzések eseteire és akár bőrápolásra is alkalmazhatónak véli a spermiumot.A bőrre gyakorolt varázslatos hatást,a japán gésáknál bevett gyakorlat is bizonyítja.
Semen is a natural mood booster. Semen contains tons of hormones, especially estrogen and testosterone, which are known for making women happy after having sex. Swallowing semen also has the potential for helping women with depression problems. Waxman applies this analogy to oral sex; if it can make women happier after sex, why wouldn't it make them happier after oral sex?
Semen is good for your body. Research has shown that semen has the potential to cure diabetes and your common sore throat. It also contains various vitamins and nutrients such as Vitamin C, calcium, iron, phosphorous, and an extremely high concentration of protein.
Semen is good for your skin. According to old Japanese Geisha documents, rubbing semen onto the skin can be rejuvenating and clarifying. The natural proteins and Vitamin E found in semen are firming on the skin, and therefore, may help with wrinkles. Also, it contains natural lipids and amino acids that aid in skin repair by increasing the blood flow that carries nutrients to the skin. Plus, the ammonia salts in semen are not only anti-bacterial, but effective at reducing shine in oily skin.
I'm not trying to say that women everywhere should incorporate semen as part of their daily nutrition, but what I am saying is that it may have benefits that we never even considered. So for the men reading this article, now you have some excuses to persuade your wives and girlfriends .
Mielőtt még a hölgyek megrohannák a beszerzési forrásokat,kerestünk ellenvéleményeket is.
A világhálón rengeteg -itt az orvos válaszol-rovat található,nagy részük ingyenes,de nem ritkák a fizetősök sem:
Nézzünk egy,az orális szex káros hatásáról szóló levelezést a YAHOO-ból:

Can semen be the cause of headache?
This is the second time I have swallowed semen and the second time ive got a headache, is it possible that semen triggers a migraine because the headache lasts between 2 -3 days and no matter what i do nothing helps, i know my boyfriend is clean and doesn't have an STI, and its not the motion of giving.
Best Answer: Believe it or not, some women are actually allergic to semen. This may be the case with you.
Do you have any troubles accepting semen vaginally?
It may be worth looking into as it may or may not have an impact on your ability to conceive. Talk to your doctor about it.
For now, you might want to refrain from swallowing, at least until you find out what's going on.
Az olvasott cikkek egy részéből a férfiak más megvilágításba kerülhetnek és a jövőben,talán mint vitamin gazdákra számíthat rájuk a társadalom.
Természetesen a donort embere válogatja:
Nem tisztünk bármiféle következtetést levonni az olvasottakból,az egyetlen hasznos tanács amit javasolhatunk,hogy:
A kockázatok és mellékhatások tekintetében kérdezze meg kezelőorvosát, gyógyszerészét!
Aki pedig eddig sem kockáztatott:
P.s.:részletes magyar nyelvű anyagot is találtunk,de abból nem szemléztünk,enyhén vulgáris részei,valamint a spermium egyoldalúan előnyös bemutatása miatt.